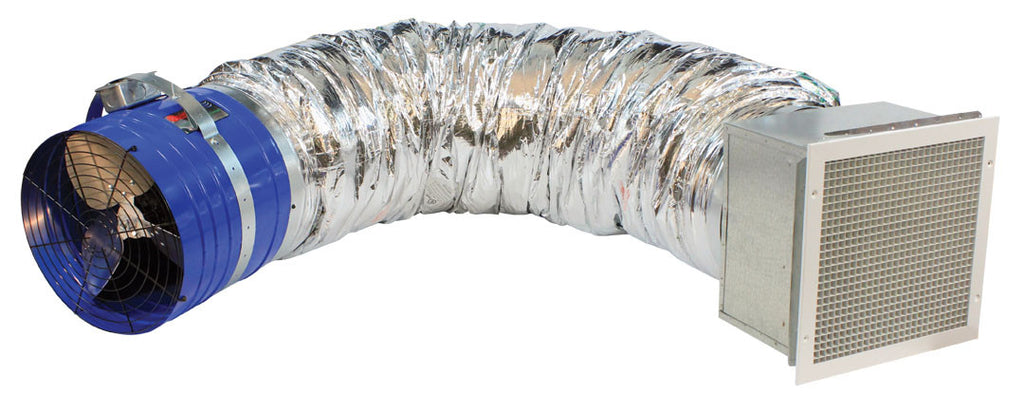 QuietCool
QC CL-1500 Whole House Fan & Control Package
---
QuietCool QC CL-1500 Fan & Control Package

Includes a QC CL-1500 with a timer and a plate cover.
The QuietCool QC CL-1500 is an energy efficient whole house fan that delivers 1527 cubic feet per minute of airflow while operating almost silently.
This fan is well suited for a large bedroom or family room. It is not large enough to cool an entire house unless it is small.
The fan hangs from the rafters and is connected to an attractive ceiling grille with insulated fexible duct. This keeps the fan noise away from the ceiling opening so it is very quiet. The ceiling grille is a nice cube core grille, not the rattly louvers like on the old fashioned fans. These fans are so quiet they can be installed in a bedroom. One advantage of this is that you can close the bedroom door at night.
The QC-1500 whole house fan has insulated dampers that close when the fan is not running. This keeps cool (or warm!) air from leaking into the attic.
This fan only takes a few hours to install. A hole is cut in the ceiling or vertical wall where the fan is going to be installed. The ceiling boot is placed in the hole and the grille is screwed into it through the drywall. The fan is hung from the rafters with the attached straps. The duct is connected to the ceiling boot and the insulation is moved back around the boot. At this point all that remains is the electrical hookup.
These fans move a lot of air and the air needs to be able to get out of the attic. Exhaust ventilation is required for the fan to operate properly.
You may be eligible to upgrade this fan to a Trident fan for free. The Trident line has a removable grille, a 15 year warranty, and includes a timer. Just put a note in the comments section!
| | |
| --- | --- |
| Motor Voltage | 120V AC |
| Motor Amperage | 1.3 Amps |
| Power Consumption | 150 Watts |
| Motor Speed | 1050 RPM |
| Air Flow @ 0.1. SP | 1500 CFM |
| Sound Level in Room | 0.4 sones |
| R Value at Closed Damper | R 4.2 |
| Ceiling Rough Opening | 14" x 14" |
| Intake Grille Color | White |
| Shipping Weight | 30 lbs |
| Box Size | 20" x 20" x 26" |
| Manufacturer's Warranty | 10 years |
| Exhaust Ventilation Required | 288 si/2 sf |
| Effective for areas of | 350 to 850 sf |
---
Share this Product